Saw Yu Nwe looked on the scene in front of her with keen interest. A lawyer's voice boomed through the sound system, asking questions to a sad faced-woman. Suddenly, the woman's voice trailed off and tears fell down. Her voice a bit hushed, Saw Yu Nwe announced, "I have chosen the right career. This is the place for me. Our women need a lot of legal help to lift them out of social injustice." Saw Yu Nwe and her friends were watching the mock trial process of a human trafficking case.
The mock trial attended by Saw Yu Nwe and her fellow 700 students, specializing in law, as well as by faculty members and special guests, took place at East Yangon University. The event, managed by UNHCR and funded by UNFPA, was held on 10 December 2015, International Human Rights Day. It was also the last day of the 16 Days of Activism against gender-based violence. UNFPA works with the government and other partner organizations, providing medical care and social support for survivors of sexual and other gender-based violence and to prevent further attacks. There is also a very active inter-agency coordination for the multi-sector response to gender-based violence. The UNFPA funded mock trial is one of them. 
Almost one in three women worldwide experience physical or sexual violence. Violence against women and girls is one of the most prevalent human rights violations in the world and yet is the most silent. Most survivors of violence often do not report or seek assistance due to fear of reprisal or stigmatization. However, these vulnerable women can be assisted, as Alexandra Robinson from UNFPA explained: "The legal sector has a strong role to play in both the response to and prevention of such abuses. It will represent women who have experienced sexual violence in work places and public places. It will find out civil and criminal remedies for women and girls affected by violence." The mock trial is very appropriate as it enabled students to practice for the real events.
The mock trial was based on a true story of a poor woman from Mandalay who was brought over to China by an agent woman, and who was then sexually abused by a Chinese landlord who "bought" her. Fortunately, the woman was rescued by authorities and able to return home. Soon the agent woman was put on trial, for alleged human trafficking. During the mock trial, every court procedure was enacted in front of a keenly interested audience.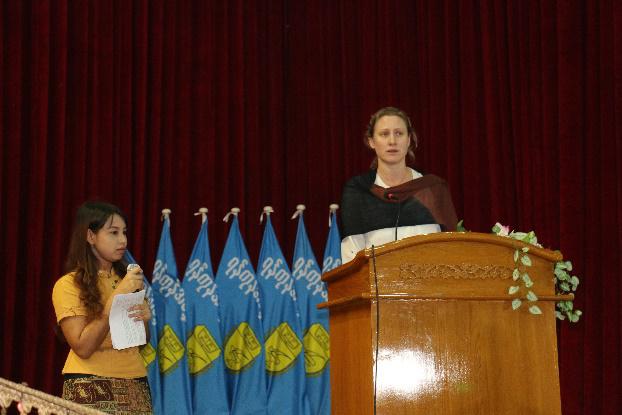 A fourth year law student called Ms. Han Su Shwe Yee acted as the trafficked victim. She claimed that the participation made her determined to champion the rights of the women and girls in need: "During the rehearsal, I had to read and memorize all the facts leading to the sexual abuse the woman had to endure. I also saw the injuries caused. It was a total nightmare for her, and for us women too." She said that sexual abuse or violence could leave a woman traumatized for days, or months or for life: "Thinking about the daily ordeal she had had to endure, I just shivered. It was too painful to hear her, even for an outsider like me." In a way, the experience with the mock trial made her determined: "I have made up my mind. I will join the profession to champion for the rights of women and girls. With the current situation in Myanmar, they are the most vulnerable people in society." Saw Yu Nwe felt the same way: "This is the best way to help women. For years, they have suffered and endured. I will help them through my profession." Her serene face reflected her inner emotions and resolve.