NAY PYI TAW, Myanmar — The Ministry of Immigration and Population (MOIP) jointly with the United Nations Population Fund (UNFPA) held the first International Technical Advisory Board (ITAB) meeting on 16-17 January 2013 in Nay Pyi Taw, to discuss the implementation of Myanmar's 2014 Population and Housing Census according to international standards.
The ITAB was established on the basis of the exchange of letters by U Khin Yi, Minister of Immigration and Population and Mr. Nambiar, Special Advisor of the UN Secretary General on Myanmar on 30 April 2012. The letters reflect commitments of the Government to conduct the census according to International Standards.
The Board brought together experts on census, statistics and related disciplines from 11 countries, UN Statistics Division (UNSD), UNFPA, ESCAP and the World Bank. They discussed preparations for the pilot census scheduled on 30 March - 10 April 2013 and plans for the 2014 nationwide census. In his meeting with ITAB, Vice President Dr. Sai Mauk Kham stated that "the Government is determined to conduct the census according to international standards." He pointed out to the need for transfer of knowledge and know-how and external technical and financial assistance.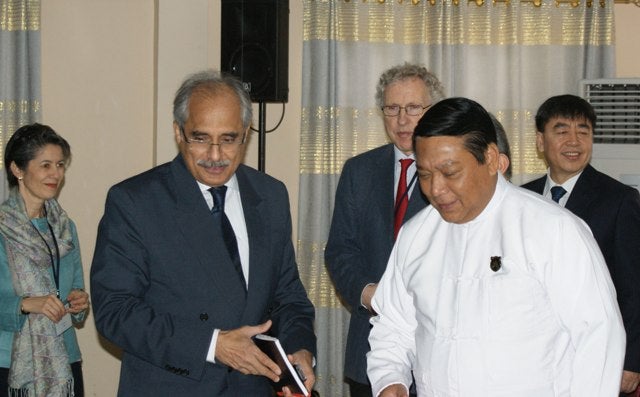 U Khin Yi, Union Minister of Immigration and Population highlighted the importance of ensuring timely availability of resources, given the budget gap of $38.5 million. He said "Conducting a population census is a huge undertaking that requires significant financial and human resources. We are trying to mobilize material and financial assistances from development partners."
Mr. Mohamed Abdel-Ahad, UNFPA Representative, reiterated the commitment of UNFPA to support the Myanmar Census through institutional capacity development, technical assistance and transfer of the state of the art knowledge and experiences. He underscored the importance of ITAB in advising the government on various aspects of the census, including mapping, data collection, processing and analysis and quality assurance mechanisms.
Mr. Werner Haug, Regional Director of UNFPA for Eastern Europe and co-chair of the ITAB said; " ITAB has the responsibility to advise the Government to implement the census in compliance with international standards to ensure credibility and legitimacy of the census."
Mr. Paul Cheung, former Director of UNSD and co-chair of ITAB said " the ITAB experts were responsible for counting more than half of the world population and their presence reflects the international community's interest to support Myanmar's development efforts."
The ITAB members visited Pyimana old village and Lanmataw Township in Yangon and the Department of Population to observe the preparation of the census and advised on various aspects of the census process to ensure reliability of data.
The Board has established a road map for technical missions to Myanmar at critical milestone in the census and agreed on modalities of engagement with the Ministry of Immigration and Population to provide timely advice and guidance on census taking.
Following their first meeting and field visits, census experts gave a press briefing to the media at Chatrium Hotel before their departure from Yangon.