Ensuring rights and choices for all
23 November 2018
#HearMeToo: Voices from Myanmar
YANGON, Myanmar - As the annual campaign 16 Days of Activism against Gender-Based Violence takes off, this year's theme is captured in the social media hashtag #HearMeToo. It builds on the #MeToo movement which has inspired women all over the world to use social media to share their stories about sexual harassment and assault.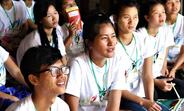 19 November 2018
Young people unite as guardians of peace
KAYIN, Myanmar - To protect their own future, young people in Myanmar are making themselves the guardians of peace. "We, young people, are capable, responsible, active, passionate and clear about what we want", said 19-year-old Nan Hnin Wut Yee from Kayin State, which is one of the war-torn regions in Myanmar. She participated

Violence against women and girls takes many forms of sexual, physical, emotional and...

Family planning gives women the power to make decisions about their bodies and thier...