"The World at Seven Billion"
11 July 2011 Yangon, Myanmar. Continued population growth, together with declining fertility, rising mobility, and a changing age structure all pose profound challenges and opportunities. In Myanmar, there is an urgent need to invest in the well-being of today's young people. World Population Day, 11 July, was the start of an advocacy effort that will continue until 31 October 2011when the world population will reach seven billion.
A commemorative ceremony of World Population Day was jointly organized by UNFPA and the Ministry of Immigration and Population (MOIP) in Nay Pyi Taw on 11 July 2011. Several Ministers, Deputy Ministers, government officials, diplomats, representatives of UN agencies, NGOs, and winners of various contests participated in the commemorative ceremony.
His Excellency, U Khin Yi, Minister of Immigration and Population, delivered an opening statement in which he emphasized that the newly-formed Union Government aims to achieve the Millennium Development Goals through the undertaking of various interventions as decided at the national workshop on rural development and poverty alleviation. "In Myanmar, youth is regarded as the strength of the nation and most valued treasure. The Government is therefore paying great attention to the all-round development of our young people. While a comprehensive health programme including health education for youth is promoted nation-wide, our education system will guide our young people to meet the challenges of life."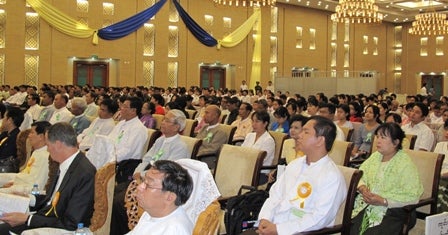 Mr. Mohamed Abdel-Ahad, UNFPA Representative for Myanmar, delivered a statement related to this year's theme, "the world at seven billion." He highlighted the achievements and challenges of a world with increasing population, and the choices and decisions we must all make. Ensuring a healthy world of seven billion people requires action in seven areas: breaking the cycle of poverty and inequality; unleashing the power of women and girls; forging a better future for young people; promoting reproductive health and rights; protecting the environment; addressing the needs of the elderly; and planning for urban growth.
Mr. Mohamed Abdel-Ahad stated that Myanmar is in the last stage of demographic transition, calling for a two-pronged strategy: a first set of policies should be developed to make use of this "demographic window of opportunity" represented by the increasingly large proportion of people in the working age 15-59 in the country by promoting job opportunities and improving access to social services. These policies will increase per capita income, savings, and investment, while boosting economic growth. A second set of policies should promote "active aging" to enhance the health, participation, and security of older persons, while taking into account their rights, needs, preferences and capacities. Many challenges lie ahead for Myanmar to achieve the Millennium Development Goals by 2015, to reduce poverty and inequality; maternal and child mortality; the unmet need for birth spacing, and HIV among the most at-risk populations. All of these efforts require an increased allocation of national resources as well as international assistance. Mr. Mohamed Abdel-Ahad also reiterated UNFPA's commitment to continue to work with the Government and all other partners through the UN Strategic Framework to meet the needs and aspirations of the people of the nation.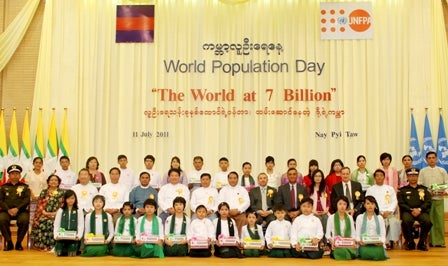 At the ceremony, prizes were distributed to 30 winners of the poster, essay and article contests and color photo competitions commemorating World Population Day 2011. More than 5000 contestants participated nationwide from all 17 States and Divisions of Myanmar. UNFPA is planning to launch the 2011 State of World Population Report in late October to highlight challenges and opportunities of the World at 7 billion.
Contact person: Dr. Ne Win, Assistant Representative, UNFPA (nwin@unfpa.org)
See also,
Opening Statement by UNFPA Representative
Speech to be delivered by Union Minister for Immigration and Population