Over 200 men, women and children from across the country participated in a rally to mark the "Sixteen Days of Activism Against Gender Based Violence" campaign which took place in the People's Park, Yangon on Sunday (24 November 2013). The UNFPA has teamed up with 20 other Myanmar based organisations as well as international agencies to help raise awareness on the issue and notably violence against women.
"Today's event is about empowering women, and their communities to eradicate violence against women and reinforce that gender based violence is a human rights issue at the local and national level. Preventing violence from taking place in the first place should be at the corner stone to every action taken in order to create a world free from violence against women and girls," said Kaori Ishikawa, UNFPA International Programme Coordinator. "It is estimated that up to 70 per cent of women, which is 7 out of every 10 women, experience some sort of violence in their lifetime. No human development goal can be achieved as long as women and girls continue to suffer from violence or live in fear of it." 
"In Myanmar UNFPA is currently providing technical support to the humanitarian community on the effective coordination of Gender Based Violence (GBV) response and prevention approaches, emphasizing the particular importance of safe, survivor-centered, life-saving health and emotional support services to survivors of harassment and domestic violence," Ms. Ishikawa concluded.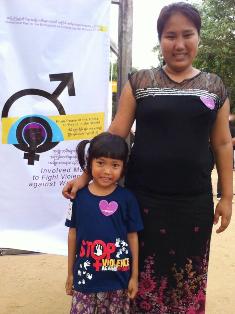 Sunday's event featured a speech by the Deputy Director General of Department of Social Welfare including a presentation about the history of the 16 Days of Activism to end violence against women, a group chanting session, drama plays, singing, games and many other interactive activities designed to increase audience and community participation. 
"More than 600 million women are living in countries where domestic abuse is not against the law. In countries where it is outlawed, gender-based violence still tops the list of civil crimes. Denying women access to sexual and reproductive health services, including family planning, is another form of violence and a further violation of their rights," said UNFPA Executive Director, Dr. Babatunde Osotimehin, in his official statement marking the International Day for the Elimination of Violence against Women. 
The annual 16 days of activism against gender based violence campaign runs from 25 November to 10 December 2013. It calls for the elimination of all forms of violence against women and calls for the international community to take action against it. It is also an opportunity to raise awareness of gender based violence at the local, regional, and global levels. The 16 days of activism serves as a global platform for sharing the real stories of gender based violence as a way of inspiring change, solidarity and action. 
This year's theme for 16 Days of Activism 2013 is "From Peace in the Home to Peace in the world: Let's Challenge Militarism and End Violence Against Women."