Key stakeholders including high level government officials, representatives from the United Nations, non-governmental and community based organisations, health, youth, political, religious and ethnic associations as well as the media and entertainment industry gathered in Myanmar's capital, Nay Pyi Taw on Wednesday (20 November 2013) to discuss the strategy for the 2014 Census.
Janet Jackson, UNFPA Myanmar Representative opened the meeting and emphasized that the purpose of the meeting was "to ensure that we are in agreement on the communications strategy and that we each understand our roles and that the entire population in the country wants to participate and is counted." 
Ms. Jackson encouraged strong participation and for everyone to reach out to their respected communities and townships, as well as adapt the suggested key messages to fit local customs and traditions. "The census strategy belongs to everyone and together we can reach out and involve the local communities on the importance of the census, including safeguarding that the accurate message of the outreach is heard." 
The draft communication strategy focusing on how to highlight the census outreach effort was presented by Mr. David Madden and Daw May Thander Win, UNFPA communications experts contracted from Paramiroad, a Yangon based consultancy firm, to advise on and bring together communication contributions for the Census campaign.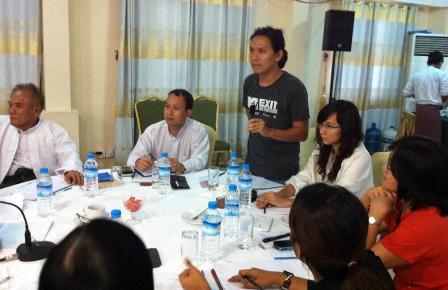 A lively debate followed, when the participants were split into smaller groups and asked to come up with suggestions on which key messages, approaches and concerns to address during the outreach campaign. Suggestions also focused on how best to involve communities living in urban, rural and hard to reach areas. 
Participations at the one-day workshop represented various organisations and associations such as the Myanmar Muslim Student and Youth Association, Myanmar Medical Association (MMA), Karen Women Empowerment Group (KWEG), Generation 88 Group, Ashoka Social Development Association, the Ziwaka Foundation, MTV Exit, Marie Stopes International (MSI), Population Services International (PSI) and many others. 
The 2014 census will be the first in over 30 years that a count of the Myanmar population takes places in the Southeast Asian nation. The last census took place in 1983. The census count will take place from Midnight 29th March to 10 April 2014.