It is now six months since the severe flooding in 12 of Myanmar's 14 States and Regions affected approximately 1.7 million of the country's population. UNFPA reflects on its initial response, lessons learned and the recovery response that is now being rolled out.
Volunteers from UNFPA's supported Youth Information Corners (YIC) programme, the Myanmar Red Cross Society and other organizations were at the forefront of the response to the floods. They distributed over 12,000 Dignity Kits throughout flood affected areas, often in challenging conditions and at a time when their own homes had been destroyed. 
In terms of service delivery, nearly 12,000 men and women received RH care including services, referrals and information. Among them, 1,151 pregnant women received ante-natal care services at health facilities, static, mobile clinics and in temporary shelters. In terms of non-food item distribution, a total of 160 emergency reproductive health kits were distributed, including 7,400 clean delivery kits for pregnant women. Also included were 24 special health kits with antibiotics, emergency contraception and post-exposure prophylaxis, designed to manage the immediate consequences of sexual violence. 
UNFPA delivered and supported extensive training across the country on the Minimum Initial Service Package for RH, a series of crucial actions required to respond to reproductive health needs at the onset of every humanitarian crisis. It also provided training on the clinical management of rape survivors. In addition, UNFPA held awareness raising sessions for local organizations, community leaders, women's groups, service providers, the Department of Social Welfare and Marie Stopes International in GBV case management and the provision of psychosocial support (PSS) to women, girls and men in Chin, Magway, Nay Pyi Taw and Rakhine.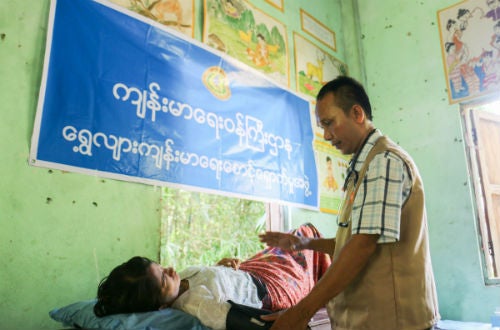 UNFPA found that there was a demand from local organizations, including women's organizations, to build their understanding of gender equality and GBV as well as to receive training to provide PSS. UNFPA worked closely with these organizations providing GBV case management and PSS training. The result is a network of case workers who can be called upon to respond promptly to provide both safe referrals for GBV and PSS in any future disaster. The recovery response includes the mentoring and capacity building of this network for preparedness purposes. GBV continues to remain a protection concern and it is expected that the register of GBV case workers that UNFPA has established will continue to play a critical role in the recovery period. 
The flood response interventions were made possible with the support of the Central Emergency Response Fund (CERF). Timely and efficient coordination by UN OCHA helped save the lives of women and girls. UNFPA is linking the response efforts with relief and recovery efforts by shifting away from the provision of basic to comprehensive reproductive health services. This includes provision of family planning services and an emphasis on the strengthening of reproductive health systems. Although the floods are no longer front page news, the recovery efforts will continue.