Like the famous song goes "let's talk about sex" and that is exactly what the UNFPA is doing to empower Myanmar's youth and raise awareness about HIV/AIDS prevention.
The UNFPA has teamed up with the Myanmar Medical Association to reach out to young people to increase their knowledge of basic sexual and reproductive health and motivate them to adopt healthy lifestyles. The UNFPA is contributing $150,000 for the youth development project. 
One such youth initiative is through the 'White and Pink' telephone advice hotlines, which directly targets pre-teens to young people aged from 10 to 24 years old from all over the country. 
"The overall goal with the Youth Development Programme is to empower and train them to become future leaders, including advising them on how to protect themselves and to be protected from unplanned pregnancies, Sexual Transmitted Infections (STIs) and sexual abuse," said Dr. Ne Win, UNFPA Assistant Representative and expert on Adolescent, Youth and Reproductive Health.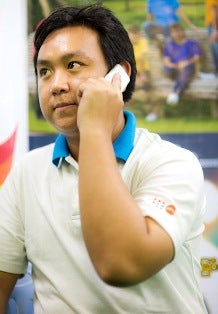 The White (for boys) and the Pink (for girls) telephone hotlines are both treated with strict confidentially and are open daily from 10 am to 5 pm. Two dedicated youth counselors, with a medical background, tirelessly answer and give advice on questions relating to everything from teenage pregnancies, contraception, birth spacing, Sexually Transmitted Diseases (STDs) such as HIV/AIDS and even handle queries on how to stay happy in the family as well as how to resist negative peer pressure. 
"We aim to increase the existing operation of the hotlines to 24 hours a day, if more resources become available," concluded Dr. Ne Win. 
The initiative, which started in September 2011, has proven increasingly popular with the Myanmar youth. Approximately 500 boys have called the White line and 300 girls the Pink since the hotlines opened in 2011. "The reason why the white line is more successful is due to the girls being shy about calling in. Often they get their brothers or friends to call in," said Zar Gyi, 27 year-old-youth counselor for the White hotline. 
The White and Pink hotlines cover all of the 14 states and regions in Myanmar. The hotline is not yet free, but the hope is make it toll free in the near future. 
The youth counselors also known as peer educators started out as participants themselves in the youth development programme and have since re-joined the programme in order to pass on the knowledge and to encourage other youth of the importance of staying healthy. 
The UNFPA and the Myanmar Medical Association are working together to lay the foundation to help in the development of young people across the country. They are coordinating their efforts together with the participation of young people, so they themselves can take ownership to promote knowledge, build capacity, enhance skills and find ways to increase their career development.