The four teams being deployed in Sittwe and Pauk Taw townships include ten UNFPA-sponsored midwives, five of whom recently received hands-on trainingin Yangon. The teams, which also include doctors and health assistants, are working under the guidance of the State Health Director and serving a population of 90,000. 
In addition, teams organized by the Myanmar Medical Association (MMA), UNFPA's local partner, have restarted daily medical missions in townships affected by communal conflict. Since early May, the midwives have provided services in Sittwe, Myebon, Pauk Taw and Mrauk Oo townships. 
The mobile teams can identify high-risk symptoms and refer pregnant women to an appropriate facility for special treatment. During May, they provided antenatal care and clean delivery kits to more than 800 women, about a third of the pregnant women in the 15 camps, while also caring for postnatal mothers and newborns. Thirty-five women received family planning assistance, including information on different methods and possible side-effects that enabled them to make informed choices; most opted for an injectable contraceptive.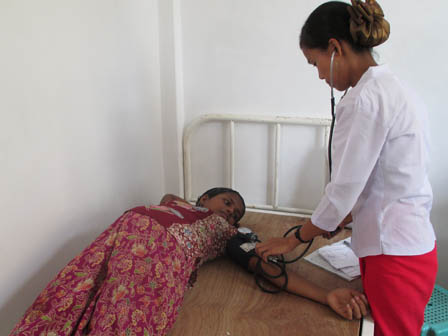 The teams also offered health education sessions covering topics related to safe motherhood and newborn care, including how to recognize life-threatening symptoms such as very rapid breathing in newborns 
The resumption of mobile services comes after humanitarian operations were temporarily stopped in March due to attacks on UN and international NGO premises in Sittwe leading to the withdrawal of humanitarian workers. Sixty per cent of the staff have now returned, but some critical activities are still affected. 
Many of the internally displaced in Rakhine State have limited mobility and face continuing challenges in accessing medical care, including reproductive health services. Health workers are not allowed to stay in the camps at night, and consequently the UNFPA-backed mobile teams are able to provide care for three or four hours per day. Recruiting skilled health workers to provide services in the state is an ongoing challenge.