Aung Htwe, 41, had to flee his home in Nam San Yam village in northern Myanmar when fighting between armed forces reached his village. For the last five years, he's lived in a camp for displaced people, unable to return as the conflict rages on.
"Because the shelters are so small and the walls are so thin, there is no privacy, and I slowly became aware just how much violence there is within families."
In Myanmar, there is a high level of acceptance of violence against women. Domestic violence in particular is regarded by many as a private matter. The problem is not isolated to the camps for displaced people. But the protracted displacement and loss of livelihoods heighten tensions. And the cramped conditions means that the whole community knows in which families there is regular abuse.
"For me the situation became impossible to ignore. I wanted to do something. But it was hard to know how to intervene in a way that didn't make things worse", says Aung Htwe.
When UNFPA started a gender-based violence initiative in his camp, he saw a chance to work towards solutions. Now he is part of a growing group of men who stand up against domestic violence in the camps.
Prevention and Response
The fight against gender-based violence takes place at two levels: Prevention and Response.
Response: For women and girls who are exposed to violence, it is essential that safe and survivor-centred response services are available, including medical, psychosocial and legal assistance.
Prevention: Working to prevent domestic violence is as important as managing its consequences. Because domestic violence is taboo, people tend to speak about it in general terms. But domestic violence is not something that just happens. It is one person, usually a man, intentionally causing physical and/or psychological harm to another person, usually a woman. This is why it is crucial to engage men and boys in the battle against gender-based violence.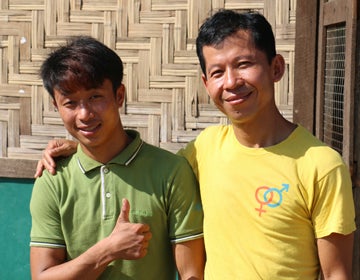 UNFPA has helped create a network of male volunteers that cover 38 camps for internally displaced people in conflict-ridden Kachin State in Northern Myanmar. The volunteers are given the tools and methods that help them prevent and deal with gender-based violence in their communities.
"Now I know what to do when I hear or see a man beating his wife in the camp. I know how to approach him and how to involve our community leaders. I'm proud to be a man who stands up against domestic violence", says Aung Htwe.
Male and female volunteers working together
Aung Htwe also has the means to assist women who need help. The male volunteers work closely with female staff from UNFPA's Women and Girls Centres. The centres support women in conflict zones who have been exposed to domestic violence, sexual violence, and other forms of violence.
Together, the male volunteers, and also female volunteers connected to the Women and Girls Centres, are making a difference in the camps. A 2016 Baseline Report from the Oxfam supported Durable Peace programme showed that while displaced people in Kachin are substantially worse off than non-IDPs across nearly all indicators, gender-based violence was a notable exception. The study shows that people outside camps are far more likely to think that domestic violence is justified than those who live in camps.
UNFPA's gender-based violence programme in Kachin includes eight Women and Girls centres and both male and female volunteers. Together they cover 38 camps for internally displaced people and their host communities in both government controlled areas and non-government controlled areas. The programme is supported under the Women and Girls First initiative, which is funded by Australia, Canada, Finland, Italy, Sweden and the UK.