Nan Hnin Thet Wai Khaing became a reporter when she joined the Voice of Shanni Journal in September last year.  Based in city of Mandalay, Hnin reached out to the contacts in other towns through telephone, Viber and Facebook messenger. "Modern communications technology makes our work much easier, and faster. You can text message a news story as well as forward photos, photographs and brief video recording very quickly." Yet, there was one thing that Hnin found almost impossible: getting accurate and credible data. She remembers her frustration: "Earlier this year, I wrote a story on disabled people in Mandalay. At first, my focus was on the whole region. But data could not be obtained." So she decided to concentrate on Mandalay city, with its numerous civil society organizations and government agencies. But they also had no accurate and credible data available, even for the city. "In the end, my story was submitted, minus the data. So it was not as impactful as I had hoped," she says.
Nan Hnin Thet Wai Khaing's frustration is shared by media in Myanmar where accurate and reliable data is scarce, almost impossible to obtain. It can often take weeks and maybe months got the requested data to be released. By the time requested data is released; the story has become a little out of date, generating less public interest.
Local journalists learn to use census data for accurate and cohesive stories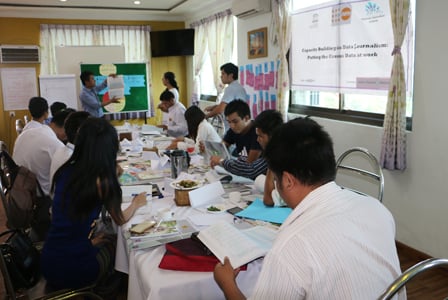 In June 2017, UNFPA, the United Nations Population Fund and its partner UNESCO started to train journalists from different regions in Myanmar. It is part of a project that aims to build capacity of Myanmar media with data from the 2014 Myanmar Population and Housing Census. The project aims to enable local journalists to identify issues and build accurate and cohesive narratives with census data.
The initiative was designed to reach media that serves local populations and ethnic minorities. Sessions for local journalists were held in Myitkyina in northern Kachin State, Monywa in Sagaing Region, Taunggyi in Shan State, and Mawlamyine in Mon State. Nearly 70 local and regional journalists were trained to use census data in story hunting and in generating and producing evidence-based stories.
News stories based on facts and data are more convincing
Nan Hnin Thet Wai Khaing attended the training in Monywa, a city 131 kilometers west of Mandalay. Participants were based in Sagaing, Mandalay and Chin. She says the training opened her eyes: "We were introduced to the census reports which contain data at different levels for many sectors. We were delighted. We also learned how to transform data into graphic displays such as pie charts and bar graphs, and to include them in news stories. This is more convincing and eye catching as well."
After the training, Hnin wrote a story on a hydro power project in the Homalin area in the northwest of Sagaing. She explains that the story covers a much-needed hydro power project, which would give people in the area access to electricity: "I wanted to write the story for a long time, but could not, as I lacked necessary data. I found out in a census reports that only 10 per cent of the total population in the area uses electricity. I used that data. That's a very deplorable situation, a hindrance for development." She said that she wrote a balanced story, including voices of people championing for the project and cautions from environmentalists on the side effects of such a project. "I am certain my story sheds lights on the need for electricity in the area. Such infrastructural improvements could positively affect development. People who read the story could advocate to parliamentarians and regional government with evidence. I am certain they would."
Since then, census reports have become her reference. Currently, she plans to research gender equality issues and write stories. "I dig into census reports for supporting data. This is a novel way for us. We have never had this wealth of data, showing infrastructural strengths and needs all over the country. Although I now focus on gender, I find threads for half a dozen potential stories. It's wonderful."