An auspicious commemoration of International Women's Day was celebrated in Nay Pyi Taw, on 8 March 2013, at the national level, led by the Ministry of Social Welfare, Relief and Resettlement and Myanmar Women Affairs Federation (MWAF), in collaboration with UN agencies, Gender Equality Network (GEN), NGOs, INGOs, civil society networks, Faith-based Organizations and technical resource persons.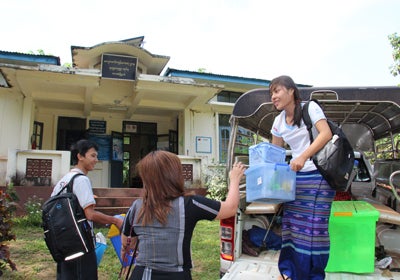 A wide range of stakeholders from government, parliamentarians, civil society network, organizations working for enhancement of women, GEN, UN and the diplomatic community attended the event.
At the opening address, Madam Daw Khin Khin Win, First Lady and Patron of Myanmar Women Affairs Federation (MWAF) and Myanmar Maternal and Child Welfare Association (MMCWA) presented the efforts made for the development of Myanmar women and emphasized on the need to review existing laws. "Promulgating and implementing the new Violence Against Women Law through prevention, protection and rehabilitation programs would obviously reduce the discrimination, abusing, neglecting, exploiting of women especially, domestic violence", she added.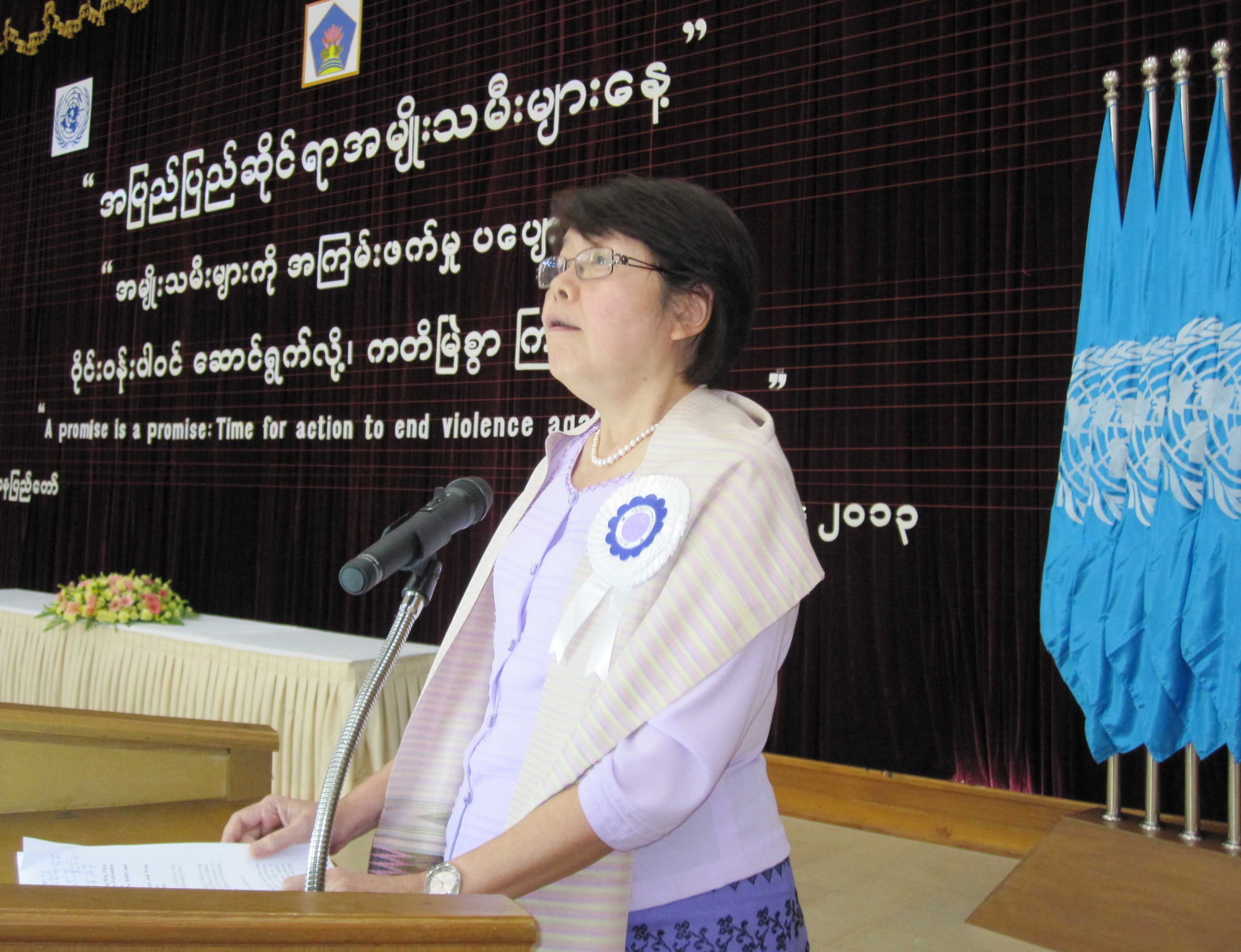 Dr. Myat Myat Ohn Khin, Minister of Social Welfare, Relief and Resettlement delivered the plan of action on advancement of Myanmar women and presented the way forward for implementation of the National Strategic Plan of Action for Advancement of Myanmar Women (2013-2022) in collaboration with UN agencies, INGO and NGO. She said: "It is clear that Myanmar women enjoy traditional heritage rights through generations. However, there is a need to raise awareness on women rights and gender equality to the women folk in the whole nation".
Mr. Ashok Nigan, United Nations Resident and Humanitarian Coordinator delivered the UN Secretary General's message on International Women's Day that urge everyone to join the effort and be part of the global push to end injustice, and provide women and girls with the security, safety and freedom they deserve.
At the display booths of the ceremony, all participating groups displayed their documentary photos on activities, IEC materials and fund-raising items.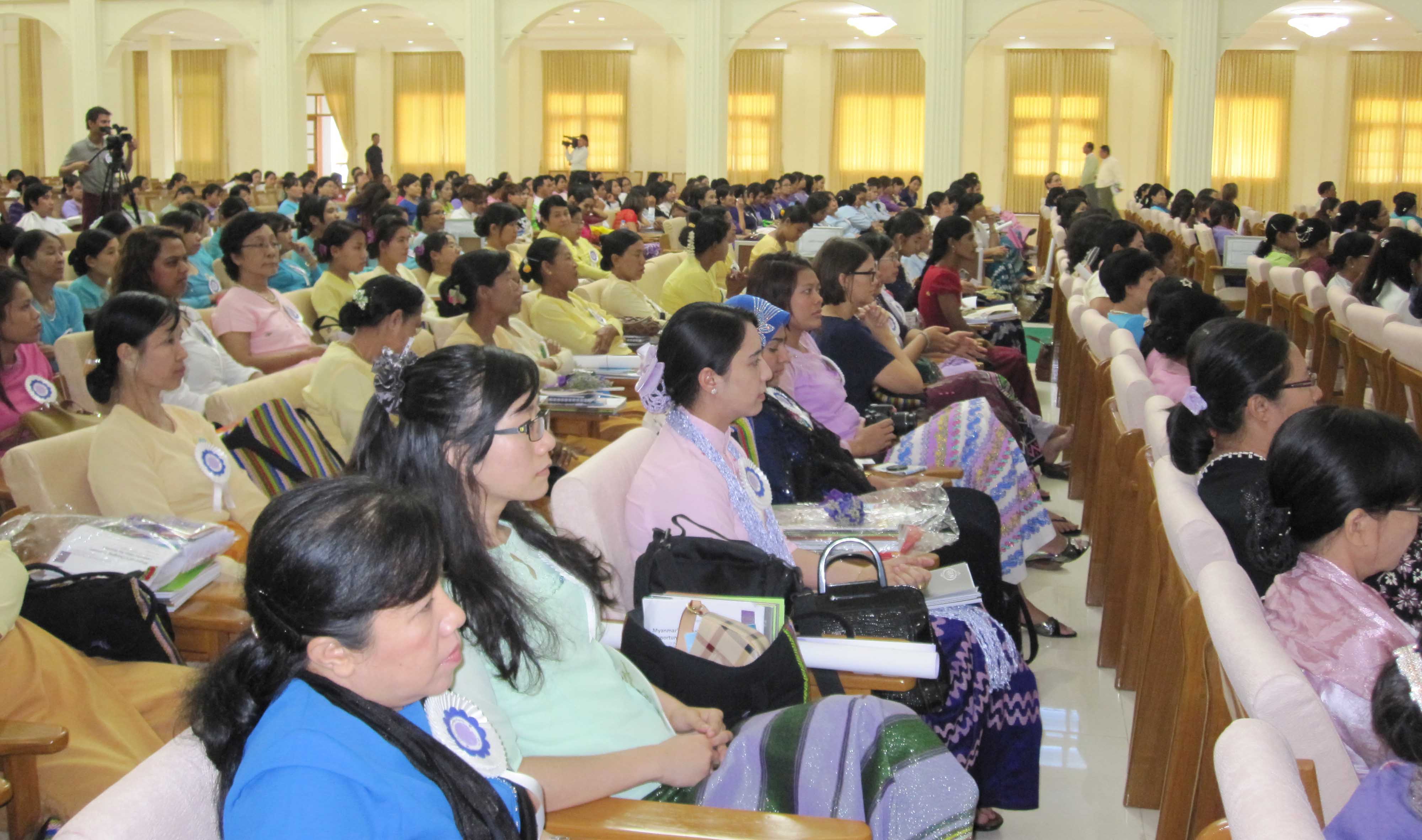 In the second part of the event, Daw Pansy Tun Thein, GEN Co-Chair and Program Director of AFXB delivered messages on behalf of representatives from civil society, humanitarian and development organizations in Myanmar and highlighted the need for linkages and impacts of all policies on both men and women. "We need to make sure that programs and policies intended to benefit women receive the funding needed to make them effective", she added.
Dr. Hla Hla Aye, UNFPA Assistant Representative, delivered the statement of Dr. Babatunde Osotimehin, United Nations Under-Secretary-General and UNFPA Executive Director, on the Occasion of International Women's Day and quoted as saying; "Building on the work of the Commission on the Status of Women, we must come together to find an internationally agreed consensus which will bring us closer to keeping women and girls safe and free from violence or the threat of violence".
The event concluded with musical performances, drama , quiz, traditional folk dance and comedy presented by members of various organizations working for the enhancement of Women.
Through the International Women's Day, all stakeholders, including government organizations and non-government organizations are called to fully collaborate and cooperate in the advancement of women, especially to end violence against women.