Yangon - In 2016, Help and Hope established an office in Lailenpi town, Chin State: the State where married women on average give birth to nine children, according to the recently released 2014 Census Thematic Report on Fertility and Nuptiality. Chin State was heavily affected by landslides, triggered by severe flooding across the country, following Cyclone Komen in 2015.
When disasters strike women and girls experience increased levels of vulnerability as a result of high stress levels in communities, a lack of privacy, and a breakdown in social protection mechanisms. Health and Hope distributed 4,799 of UNFPA's dignity kits in remote and hard-to-reach rural areas, using multiple means of transport including motorbikes, horses and, where roads were not passable due to thick mud and water, on foot. The kits, a significant part of UNFPA's role in addressing women's needs as part of its humanitarian response, contain the basic items that women and girls need to protect themselves, to maintain hygiene and to preserve dignity. Items such as sanitary pads, enable women and girls to access humanitarian assistance and engage in the rebuilding of homes and communities.
The words of the women below, in a letter to Health and Hope and UNFPA, show their appreciation and thanks for the kits that they received.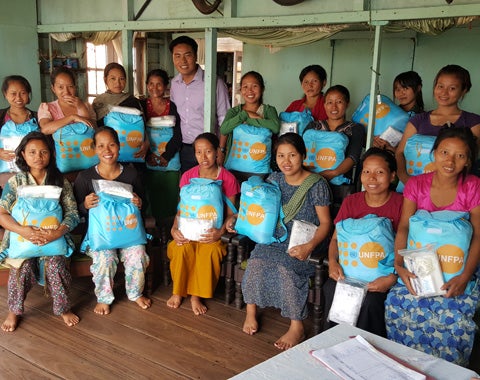 Mrs. Ngechai, a 43-year old woman from Peite village, Matupi Township, Chin State, has six children. A few years ago she became the Vice Chairperson of a village women's club in Lailenpi town. When she visited other families, she saw first-hand that they, like her, struggled in their daily lives. As poor rural farming communities, she could see what women needed to improve the safety and quality of their lives, but there were no resources to meet these needs. The landslides of 2015 swept roads away, and crops were lost just weeks before they were due to be harvested, leaving those like Mrs. Ngechai, already with little, with nothing at all.
When she received a dignity kit she said: "I know these materials are very useful and important for women in rural villages because there are no shops or markets to get these items, and we have no money." She added: "These kits will bring smiles to thousands of women's faces and change their lives, I can promise you that."
In addition, the Health and Hope team provided UNFPA's Clean Delivery Kits (CDKs) to 400 pregnant women in some of the most remote areas of Myanmar. The terrain and damage caused to roads by the landslides made distribution an extremely challenging task. Initially the kits were delivered to internally displaced persons in refugee camps. Then the journey to some of the hardest-to-reach areas in the State began, and kits were distributed to villages in Hakha, Falam, Thantlang, Matupi and Paletwa Townships. UNFPA's clean delivery kits can mean life or death for a pregnant woman and her baby. The kits include a bar of soap, a clear plastic sheet, a razor blade, an umbilical cord tie, cloth and latex gloves so that health care workers can safely deliver babies in low resource and humanitarian settings.
Mrs. Hmochhuano, a 40-year old woman, from the remote village of Lung Cawi, gave birth to 11 children; 7 died during infancy. She said she felt a deep sense of shame and did not leave her house. When the Health and Hope team provided Mrs. Hmochhuano, who was expecting another child, with a clean delivery kit she said that she wanted to thank UNFPA in person for their support to her and to other poor women in Chin State. She said: "My husband and I can now face our villagers, and are proud that we have a healthy family."