Three years ago, when the census enumerator arrived at her family home in 2014, May Mon Oo had little understanding of why the census was being conducted. Today, in 2017, she knows the census like the back of her hand. She brings her knowledge to people all around Myanmar as a civil society facilitator for census workshops at township level. In October, she and her colleagues covered several remote townships in Chin State, including Falam where over 60 stakeholder representatives from the township came together to discuss the census data.
"The workshop participants here in Falam have such different backgrounds. From the head of the General Administration Department and the Medical Superintendent to youth representatives and midwives. It's my job to make sure that all participants are heard, also those who are shy," says May.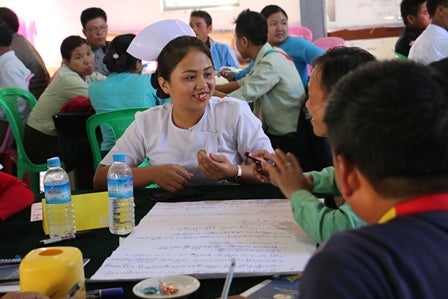 The production and dissemination of detailed reports for each of Myanmar's 330 townships form part of the grand finale of the census project. Conducted by the Government of Myanmar, the 2014 Myanmar Population and Housing Census was the first census in Myanmar in over 30 years. Reaching nearly 98 per cent of the population, it was an undertaking on a massive scale. The results provide vital data that for socio-economic planning, resource allocation and decision-making at all levels of government, including townships.
"We need to improve the roads to get our children to school"
"During this workshop, I've learned to interpret census data. What I can see is a connection between education and transport. We need to improve both roads and families' access to vehicles to get our children to school", says midwife Sai Lyan Mawi.
The township workshops enable and empower local decision makers and stakeholders to understand the data and to turn this knowledge into action that improves education, health and infrastructure in communities. The two-day interactive trainings, which are facilitated jointly by the Department of Population and civil society organizations – including Charity Oriented Myanmar, Capacity Building Initiative and Treasureland Development Association  – bring together people from local government, health and education authorities, NGOs, and civil society organizations such as women and youth groups. It total 17,500 people across Myanmar have participated in the township workshop.
Focusing on jobs for young people
Youth representative Ni Siang Pal is one of the most active participants in the Falam workshop. Her focus is on creating job opportunities for young people in Chin. The unemployment rate in Chin for young people aged 15-29 is 11.5 per cent, much higher than the Union average of 7.6 per cent.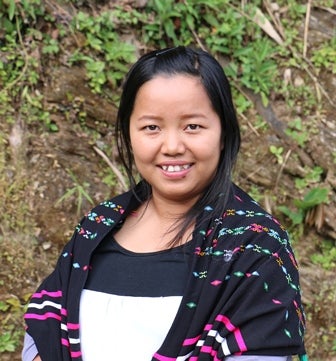 "Most of my friends have left Falam to find jobs in other parts of Myanmar or across the border in India. I want to stay here and work for the development of my home town and home state", says Ni Siang Pal.
"I am learning so much from this workshop. Understanding the data helps me formulate realistic solutions. It is a very special experience to be able to voice my ideas to the local authorities during the interactive sessions. I realize that even if they are older and more powerful than I am, they have the same concerns for our community. I feel as if they really listen ad are interested in my ideas."
"Thanks to the census data, we now have the facts we need to make the right decisions. And thanks to the workshop, we have made a strong connection between the local decision makers and stakeholders so that we can work better together to develop Falam", says Ni Siang Pal.