More than 3200 young people have participated in a joint programme operated by the UNFPA and Myanmar Medical Association (MMA) to educate young people to adopt healthy life styles, learning good values and ethics and being educated about basic sexual and reproductive health.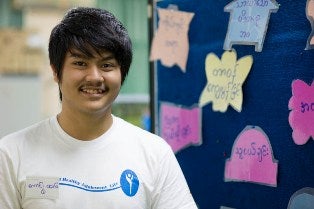 Earlier this month UNFPA and MMA completed its 80th training session in Yangon for Myanmar youths aged 15-19 year-olds. In total, 105 youth training sessions have been carried out in various parts of the country. The UNFPA is contributing $150,000 yearly for the youth development project.
The six-day youth educational training programme which is held every month covers a variety of health related issues such as how to live a healthy lifestyle and saying no to negative peer pressure. The programme highlights the dangers of smoking, how to kick the habit as well as educating youth on basic sexual education in terms of do's and don'ts, the prevention of sexually transmitted diseases including HIV/AIDS, contraception methods, sexual maturity and issues relating to sexual harassment.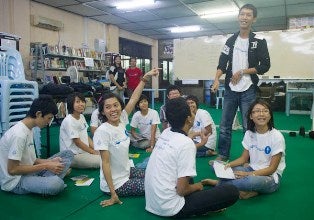 "The course is very sought after and we have a long waiting list. We often find that it is the parents that sign their children up to participate in the programme," said Dr. Ne Win, UNFPA Assistant Representative and expert on Adolescent, Youth and Reproductive Health.
As part of the six day course a special "life auction" event is held to teach students about what values to focus on in their daily lives. Participants are asked to bid on core life values and ethics such as happiness, being healthy, appreciating others, and fairness. An intense bidding war among the students usually ensues. During the auctions values such as "teamwork" goes for more than 11,000 Youth Dollars and "helping others" is "sold" for 13,000 Youth Dollars. The ground price for each value starts at 2,000 Youth Dollars and each team are given 50,000 Youth Dollars which is administered by a fund manager.
"If you have good values, you must strive to maintain it," said Dr. Ne Win."Values can change depending on one's environment and you can easily choose the wrong path, therefore it is very important to protect ones values by leading a happy and healthy life, which is something we try and install in the youths." 
On completion of the course the participants receives a certificate to lead a "happy and healthy youth life". Young people can attend the programme free of charge and the overall aim is to expand to other areas of Myanmar, should more funding become available.