In the aftermath of Cyclone Komen, Dawt Hnem and her three children had to abandon their home and belongings to seek refuge in a camp. Cyclone Komen brought floods and landslides to large parts to Myanmar, and when Dawt Hnem saw houses close to her own become affected by landslides, she made the difficult decision to leave her house.
She and her children now live in the Bethel Church camp in Hakha, Chin State. Housed in a light-weight tent, and when the temperature drops below zero in winter time, the tent becomes excruciatingly cold. 
On 16 December, UNFPA, the International Organization for Migration (IOM) and their local partners arrived at the camp and delivered blankets to Dawt Hnem and to other families living under the same unforgiving conditions. 
"We are facing challenges during our stay at the camp. Now, that the weather getting very cold, I have been worrying about how to keep my children warm", says Dawt Hnem.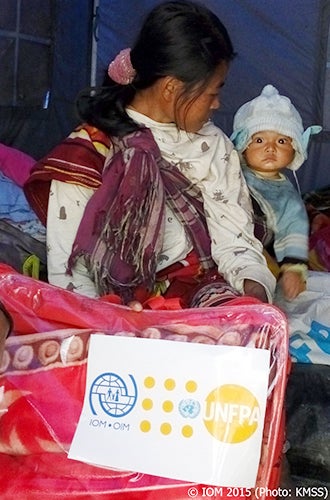 Although it is now 6 months since Cyclone Komen hit Myanmar, those who lost their homes and livelihoods struggle to survive, and many people remain displaced. The joint UNFPA/IOM initiative is the first international effort to bring protection against the cold weather to people affected by floods and landslides in the remote Chin State. UNFPA has provided $142,150 in funding, allowing IOM to deliver 11,400 blankets in Chin. 
Dawt Hnem is the only adult in her family. She works as a day labourer to support herself and her children. The lack of appropriate accommodation in the camps deprives families of dignity and privacy, and as a female-headed household, she and her children are particularly vulnerable. 
"It is the right time to receive the blankets. They couldn't have arrived any sooner", says Dawt Hnem. 
Another family said: "The weather of Hakha is terribly cold especially at night and early morning in winter. And the tent we live in is penetrated by heavy winter fog in the morning and all our clothes and blankets are covered with wet. We were in need of more blankets and warm clothes. Now, we have received blankets, and it really helps to make the nights warmer and we can sleep better than before." 
The majority of blankets were distributed in Hakha, which is the hardest-hit area in Chin, but blankets were also delivered to Tonzang, Tedim, Paletwa and Falam.