On 28th-30th of January, the United Nations Population Fund (UNFPA), the International Organization for Migration (IOM) and the Danish Refugee Council (DRC) conducted a three day workshop on anti-human trafficking and gender-based violence in Kachin, the first time the three agencies had collaborated in a training of this type. Thirty three participants from local and international NGOs attended.
raining focused on Human Trafficking (HT) case identification and how to manage cases, ensuring that workshop participants all had the same level of knowledge about the definition of HT and Gender Based Violence (GBV). In addition IOM presented the context of HT in Myanmar. Group work sessions encouraged participants to develop a service provider mapping in Kachin, including survivor identification and referral pathways.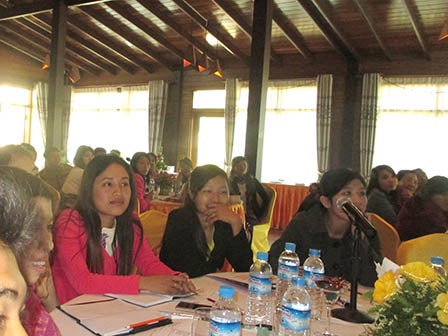 Of the total thirty three participants, only 2 had prior anti-trafficking experience. In addition only a couple of NGOs were working on human trafficking along the border with China and in Northern Shan State. The training clearly highlighted that while some organisations were confident in identifying and responding to survivors of GBV and others understood the patterns of HT, there was very little understanding of the intersection of these disciplines. 
The collaboration between the three agencies was a success with several important recommendations emerging from the workshop. The majority of participants expressed an urgent need to raise awareness on HT, as well as protection and reintegration issues. Some participants recommended that HT activities should also be implemented and prioritised in Northern Shan State. It was agreed that there should be a collaborative and collective effort to develop and disseminate HT and GBV prevention communication materials. Participants also felt it was important to engage with Civil Society Organisations working in the border areas and provide direct assistance to the survivors of trafficking.