"When I fell in love with my husband, I never imagined that our lives would be so harsh. We both come from poor families, we have little education, and we lacked information about many issues of life. We have seven children, and we have struggled to make ends meet, to support our growing family."
Win Win lives in Auk Chaung Village in Myanmar's Ayeyarwady Region. She is 38 years. Her husband has always been day labourer. Their three oldest children, aged 21, 19 and 15, now also work as day labourers. The youngest four children, aged 10, 8, 6, and 3, are still at home.
To feed and educate seven children has always been a source of anxiety for the couple. Win Win's voice chokes as she talks about the early years of her marriage.
"I gave birth to my first child more than 20 years ago. At the time, we knew practically nothing about health. Our neighbours helped us, but they also lacked knowledge about many basic things. It was a trying time in our lives."
"We were so helpless"
Over the next 17 years, Win Win gave birth to another six children. All loved and treasured, but each adding to the burden of putting food on the table and providing for school books and uniforms.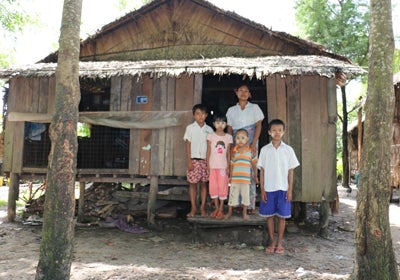 "We could not educate them higher than the elementary level. They had to leave school when they were only 10 or 11 years old. A sad thing, but we could do nothing. Each time we thought our family was complete, I became pregnant again."
Win Win eventually learned from her neighbours that pregnancies could be planned with the help of contraceptives. She says in a barely audible voice:
"But, with so many children to support, we simply could not afford it. I felt very sad and almost desperate to know that there was a solution, but that it was out of reach. Every time I had thought about it, I just wanted to cry. We were so helpless."
"Now we can decide for ourselves" 
Then, one day three years ago, her husband found out that they could now get contraceptives for free. Win Win was too shy to go to the health centre by herself. So husband and wife went together to register for voluntary family planning.
"We were very excited then. It meant we could start our own family planning. I felt like a great load taken off from me. Now we can decide for ourselves if and when to have more children, what is appropriate for our family. And we can better feed and educate the children we already have."
"When I think back at the years, I realize how exhausted I was. Now I have new energy. I am even dreaming about starting a small business. I will start mending fishing nets, at home. So I can look after my children, and earn a living at the same time."
In Myanmar, one in six women who would like to use modern contraceptives cannot access them. UNFPA, the United Nations Population Fund, empowers women to make a better life for themselves and their families by giving them access to voluntary family planning. UNFPA works with the Government and with private partners, including Marie Stopes International, for a Myanmar where every pregnancy is wanted.