RAKHINE, Myanmar - 13-year old Kursumar lives in a displacement camp in Myanmar's Rakhine State. To help her family survive she day labours as a domestic worker, making 500-700 kyats (35-50 cents) per day.
Kursumar longs for the time when, every few weeks, the outreach worker from the Women and Girls Centre comes to her house. That is when she is invited to attend an education session just for girls. And that is when her father says, yes, you can go. And for two hours, Kursumar is free and safe. She is free to learn and laugh, and she is safe to let her guard down.
Kursumar is one of 130,000 people who identify as Rohingya, who have been confined to camps for six years now. She and her family lived in nearby Sittwe until 2012 when the Muslim community was driven out of town and into camps.
A dangerous place for an adolescent girl
A displacement camp is a dangerous place for a teenage girl. Violence against girls is widespread, as are harmful practices. Families have lost their means to earn an income, and a vicious cycle of debt means that many girls are forced into early marriage. The UNFPA-supported Women and Girls Centres work to protect girls in the precarious camp environment.
"Teenage girls are at particular risk of harassment, abuse and assault both at home and outside of the home. At the centres, they learn what to do to stay as safe and secure as possible", says Women's Protection and Empowerment Officer Khin Me Me Htun.
The centres are also a cultivation ground for girl power.
"We explore what gender equality is and how this relates to their own lives. On the one hand, these girls lack knowledge about their rights and potential. On the other hand, they possess such strength and resilience. Our work is to help them channel this force into improving their situation at home and their position in the community", says Khin Me Me Htun.
Accurate information and critical thinking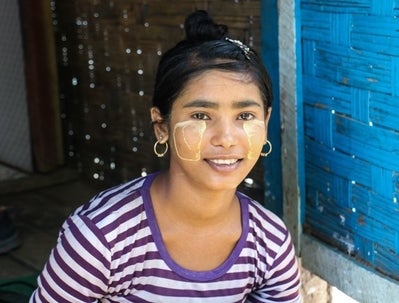 The girls who come to the centres are encouraged to spread their knowledge among their friends.
"One of my girlfriends has a smartphone. She became friends with a boy on Facebook, and then he started bullying her to do things she didn't want to do. He wanted her to send photos. He called her too and said things which made her feel afraid. She didn't know how to handle the situation", says 14-year-old Harlee.
The vast majority of girls in the camps have no access to smartphones, but for those that do, the phones provide a link to information and to the outside world. At the same time, it means that that the girls become exposed to cyberviolence, which is now creeping into the camps.
"I thought about what we had learned in the Women and Girls Centre, and I told her, what do you know about this boy? You should delete him from your phone. I helped her do it, and we both felt relieved when we had done it", says Harlee.
The teenage girls in the camps do what they can to support each other. But, as is the case throughout the world, when young people learn from each other, they repeat hearsay and as a result they often perpetuate incorrect information, risky exploits and harmful advice. At the Women and Girls Centres, the girls can access accurate information to share with their friends: Knowledge about their rights and safety; about puberty, menstruation, female hygiene and how babies are conceived; and about love, relationships, marriage and gender equality.
At the centres, the girls also learn to not believe everything they hear, and to apply critical thinking.
"I never know when a girlfriend tells me something if it is true or not, if her information is correct. And so I don't know if her advice is good or bad. When I need to know for sure, I ask at the Women and Girls Centre."
Averting early marriage
While much of the work of the Women and Girls Centres is preventative, an equally important part is to respond to cases of rape, violence, abuse and harmful practices. The centre staff also provide a lifeline for girls who need help, be it medical, psychosocial or in the form of mediation.
"The girls know they can come to us when they are in difficulty. For example, we are sometimes able to intervene to avert early marriages", says the centre's Khin Me Me Htun.
When the staff of the Women and Girls Centres know or suspect that an early marriage is about to take place, they collaborate with a network of male outreach workers. The male outreach workers can speak discreetly with the girl's father, while the female centre staff engage subtly with the mother. This way, the parents can be convinced to postpone the wedding, without anyone losing face in the process.
"I love the way I feel in the centre"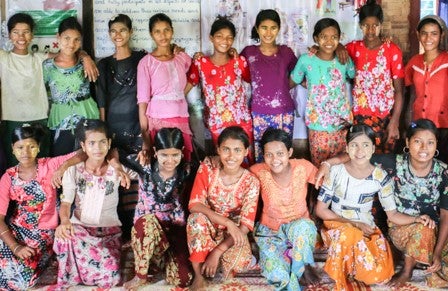 For 13-year old day-labourer Kursumar, the Women and Girls Centre is a safe and nurturing space in a gruelling and hazardous existence. More than that, the centres protect and support a generation of girls that are growing up in the camps. At the centres, they are installed with enough girl power to know that they have a right to live free of violence and to make decisions about their own bodies.
"I will keep going here as long as the outreach worker comes to my house and tells my parents that I am invited', says Kursumar. "I love the way I feel in the Women and Girls Centre."
There are 13 UNFPA Women and Girls Centres in Rakhine. They are funded through UNFPA's Women and Girls First Programme with support from Australia, Finland, Italy and Sweden, and are operated by the International Rescue Committee and the Danish Refugee Council.