RAKHINE, Myanmar - "When I grow up, I want to be like Me Me. She has so much knowledge. Every time I come to the Women and Girls Centre I learn something new and I get a little bit closer to being like her."
14-year-old Harlae Dar is talking about Khin Me Me Htun – Me Me for short – a Women's Protection and Empowerment Officer, supported by UNFPA. She works in the Myanmar camps for displaced people who identify as Rohingya.
Me Me has been working with UNFPA in Women and Girls Centres since 2014, progressively taking on additional responsibilities and advancing into her current position. With her competence and poise, she inspires the girls to recognize their own abilities and possibilities.
No way out
Like everyone who works in the Women and Girls Centres, Me Me is herself displaced. Like all the people in the camps and adjacent villages, her freedom of movement is restricted. Although her former home in downtown Sittwe is only a few kilometres away, she has not once been back since 2012. That is when violence drove Me Me and over 100,000 Muslims in Myanmar's Rakhine State into camps, where they have now been confined for six years. They are not allowed to leave.
By engaging women from inside the camps, UNFPA provides professional prospects for women who are living in protracted displacement. Their work enables them to apply their expertise to shape the response to gender-based violence in the camps, and towards the empowerment and protection of women in their own communities. In addition, the entitlements bring financial security to the staff and their families.
These professional opportunities are indispensable for displaced women like Me Me who hold advanced university degrees. The peer-to-peer effect is equally important: Me Me and her colleagues have emerged as role models for women and girls who are doubly disenfranchised, partly because of their ethnicity, partly because they are women in a traditional and isolated community.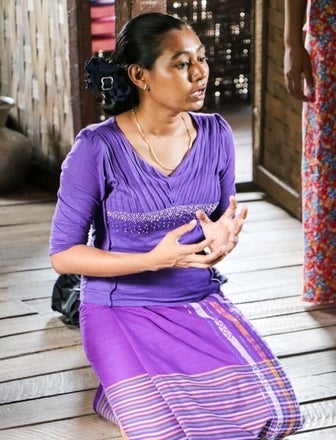 Always a free spirit
In 2016, Me Me told UNFPA her story, and shared how her work for UNFPA was helping her to find new meaning after losing her home, her freedom and her hopes for the future. Read Me Me's story.
Me Me was always free-spirited. She was the first girl in her neighbourhood to wear trousers, and she was one of the first to go to university, obtaining a BA degree in English.
"My family always supported me. My grandfather especially encouraged me to be myself. Their support gave me the strength to go my own way as an adolescent girl.
With the support from her family continuing into adulthood, the unconventional and fun-loving city girl has risen above her forced displacement. She has become a parent herself, and she has grown into a formidable 28-year-old woman who inspires the awe of the girls in the camps.
A world apart
"Most of the girls in the camps do not have the kind of support in their homes that I did and still do. This is why my work in the Women and Girls Centres is so important. The centres are safe places where the girls can receive the support they need to begin to understand their own potential", says Me Me.
"Our education sessions for the girls are about gender-based violence, about sexual and reproductive health and rights, and about female empowerment. These are serious matters, but I always bring fun into their visits too."
When Me Me was a teenager, living in downtown Sittwe, she liked to go to cafes with her friends, to hang out on the beach, to see films at the cinema. For the girls in the camps, such options do not exist. These are things they have never experienced, and cannot even imagine. The camp is a world apart.
"For these girls, our sessions are not only a source of information, they are also the closest the girls ever get to an hour of feeling carefree in the company of friends in a safe environment. These girls' lives are so hard. They need cheering up so that they can keep going until the next time they visit the centre. We joke a lot and mess around a little to make sure they feel happy and strong when they leave", says Me Me.
"This is my calling"
14-year-old Harlee does not go to school. There are no books, no TV or radio in the family's small shelter, which is sweltering in the summer and rain-beaten during the monsoon. She has no smartphone. She is cut off from the world. Due to the restrictive social norms in her community, she rarely leaves the shelter. What does Harlee do when she is not helping her mother with domestic work?
"I sit. Or I lie down."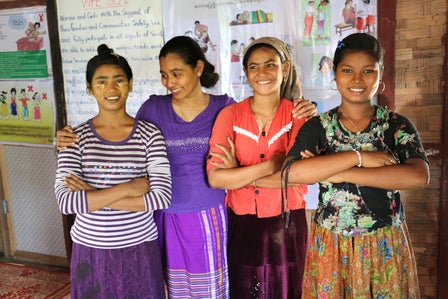 Me Me gives Harlee's hand a good squeeze. She knows Harlee well, just as she knows the individual situation of many dozen adolescent girls across several camps. She is their link to information about how to protect themselves from harassment, early marriage and violence in the camps, a link to knowledge about their bodies as they transition through adolescence, to an awareness of their rights, and an affirmation of their self-worth.
"I stay in touch with my friends from university, and they tell me I should try to find a way to leave, to somehow escape the confinement of these camps", says Me Me.
"But even if that were a possibility, how could I leave these girls when they rely on me. How could I live with myself, knowing that I had left them behind? No, I would never do that. This is where I am making a difference. This is my calling."
There are 13 UNFPA Women and Girls Centres in Rakhine. They are funded through UNFPA's Women and Girls First Programme with support from Australia, Finland, Italy and Sweden, and are operated by the International Rescue Committee and the Danish Refugee Council.